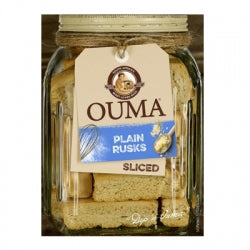 Ouma Original Sliced Rusks 450g
Rusks | In stock
Ouma Sliced Original have been conveniently sliced for easier dipping. its, Ouma Rusks are a snack, dipped in coffee or tea before eaten.
Ouma Original Sliced Rusks
Perfect texture and crunch.
Soaks up coffee well without getting too mushy ;)
Tastes good, something in the rusk mix tastes like its stale? Not sure, just a teste coming through. Just my palate being weird...
Good buy.
---