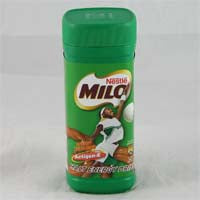 Nestle MILO 250g
Beverages | In stock
MILO is the largest brand in the Malt Energy Drinks category with 6.5 billion cups of MILO consumed every year. 
My son can't live without it!!!!
If you ever wanted to give a 12 year old South African boy the best birthday present of his life. Send him a box full of Milo. My child has oral sensory defensiveness, and one of the two things he misses most about South Africa is Chocolate Pronutro and Milo. BOTH of which he eats dry. Its a hard life in Canada without your staple diet.
You get FIVE STARS 🌟 🌟 🌟 🌟 🌟 BOKKIES!
P.S. He turns 12 on the 12th of February (I think they call that your golden birthday here).
---